Paddy's War
The Dogs of War, by NANCYSWARBRICK
You won't find their names on any memorials, and they barely rate a mention in official histories of World War I, but animal mascots were there on the battlefields of Gallipoli and western Europe, sometimes right in the middle of the fighting, helping to boost the morale of New Zealand's soldiers.
Their importance to the men is suggested by the memorabilia that has made its way into our museum collections. Auckland War Memorial Museum, Te Papa and the National Army Museum at Waiouru, to name a few, have well-worn collars, leads, nameplates and faded photos – reminders of the close bonds forged between animals and humans in wartime.
Military mascots represented the spirit of a regiment, and were believed to bring good luck. During World War I they were more than just symbols, though – they provided companionship, fun and comfort to men a long way from home.
No doubt that is why Anzac soldiers were so fond of them: in 1915 a London newspaper correspondent commented that you "could almost stack a menagerie with the numerous animals that are treasured as mascots by the New Zealanders and Australians". Dogs, especially, would have been reassuring to Kiwi men used to working alongside them in civilian life.
One much-loved mascot was a frisky Irish terrier called (what else?) Paddy. He was unique because he left with the Main Body of the first New Zealand Expeditionary Force and went right through the war, "serving" in Egypt, Gallipoli, France, Belgium and finally in Germany with occupation forces.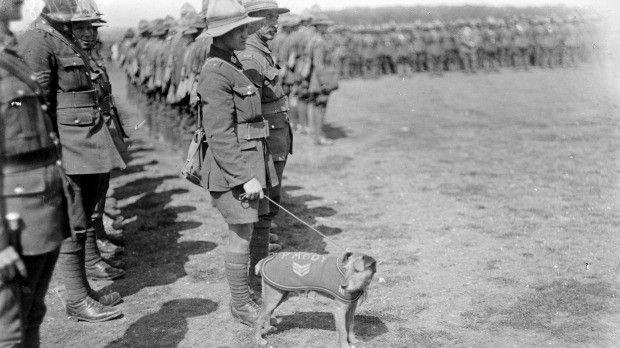 Before the war Paddy belonged to Sergeant-Major Beaumont Woodhead, an English professional soldier who in 1911 was appointed instructor of a territorial unit: the 7th (Wellington West Coast) Regiment, based in Wanganui. Paddy's military career began when Woodhead presented him to the regiment as a mascot.
At the outbreak of war, a company of the regiment joined a larger provincial force, the Wellington Infantry Battalion, which sailed for Egypt in October 1914. Paddy was smuggled on board the troopship Maunganui in defiance of an order prohibiting pets. When he emerged from hiding after two days, sniffing the sea air, the men successfully argued that he should be recognised as an official mascot on the basis of his previous service. After taking part in desert training and manoeuvres in Egypt, including a skirmish at the Suez Canal, Paddy went with the Australian and New Zealand Army Corps – the legendary Anzacs – to the Dardanelles in April 1915. On the 25th, he landed with his battalion at Gallipoli under deadly fire.
During the initial fighting he dashed through the scrub where the bullets were thickest, barking and scuttling, "endeavouring to discover where all the nasty snappy whining noises all around him were coming from". At dusk one of the men discovered him stretched out on the ground, apparently lifeless. A growl when he was touched revealed that he was not hurt, just "dog tired".
At Gallipoli, Paddy was often in the front line, taking part in several charges and on one occasion reaching the enemy trenches before the New Zealand troops, yapping down at the defending Turks, much to their astonishment.
When the Wellington Battalion transferred from Anzac Cove to Cape Helles in May, Paddy went missing for a while, but was found wandering on the beach, having temporarily attached himself to a British unit.
The Wellington West Coast Company took part in the famous, bloody battle of Chunuk Bair. During the Gallipoli campaign it suffered heavy casualties: 77 men out of 259 were killed and many more wounded. Paddy stood firm throughout: in fact it was claimed that by mid August, of the original company, only he and a trooper from Levin remained on the peninsula, and he was there until at least September.
The constant gunfire and shelling took its toll, though: he became almost deaf and any noise sent him shivering and running for cover. When the Second Wellington Battalion was formed, Paddy went with it to the Western Front in France.
He gradually recovered his hearing and his nerves, but was kept safely behind the lines with the Quartermaster's Staff, living an easier life in comfortable accommodation near the supply of rations.
There he continued to be a loyal friend to war-weary New Zealand troops. He also had an important ceremonial function, and was on the parade ground whe Prime Minister William Massey inspected troops at Vauchelles in June 1918.
Like some other mascots, Paddy received honorary military rank. He first "enlisted" as a private, but for "good services and behaviour" at Suez was promoted to lance-corporal. By the end of the war he was a sergeant-major, and to prove it had a tailor-made red coat with blue chevrons.
This bit of fun at the expense of army hierarchy was also a mark of respect for his staunchness. We know about Paddy because the men he accompanied told stories about him during the war, and in some cases many years later. Major W H (Bill) Cunningham, who commanded the Wellington West Coast Company, had a soft spot for Paddy, mentioning him in his diary on January 28, 1915 while the troops were in Egypt: "Today fresh meat was issued. Skirt steak the cook called it. Tough as leather. Paddy got most of it."
Private Aubrey Tronson, a newspaper reporter who joined the Wellington Regiment in 1914, outlined Paddy's war exploits with pride in the pages of the Wanganui Chronicle, in 1915 and again in 1919.
Tronson noted that "through the killing desert marches and manoeuvres in Egypt, Paddy was always there at the head of the Company" and claimed "there is not a man in the Wellington Regiment who does not know Paddy". And Sergeant-Major Harrison Wray, who in late 1914 came into possession of the dog's pre-war collar plate bearing the inscription "Paddy, 7th Regiment Wanganui", prized it all his life.
In a 1965 letter Wray described Paddy's war effort in tones that made it clear how important he felt it was. At that time, he offered Paddy's collar to several museums, but there was no interest. After Wray's death in 1969 a relative, realising how much he valued this memento, sent it to the Waiouru Army Camp, and it is now in the National Army Museum.
The ultimate sign of Paddy's emotional significance was the effort made by the Wellington Regiment to get him back to New Zealand after the war. In 1919 various people, including Cunningham (by then a Lieutenant-Colonel) made appeals through the Army Department. At that time, there was a ban on importing dogs from France, Europe, Egypt and Asia, and dogs from Britain had to be quarantined for six months.
Then a rabies outbreak in Britain led to a general prohibition on the import of dogs.
Eventually the director general of agriculture agreed to make an exception for Paddy as long as he was kept in the Wellington Zoo. Cunningham, who had hoped to provide a home for Paddy himself, reluctantly agreed to this plan.
Why did Paddy mean so much to the men of the Wellington Regiment? For a start, they probably associated him with carefree pre-war years, before they had experienced the grim realities of battle.
Later, they would have regarded him as a link with the mates who did not make it back to New Zealand. Those who did return clearly saw him as a comrade who had stood beside them through terrible times, and suffered too.
Tronson, Cunningham and Wray were all badly wounded at Gallipoli, the campaign in which Paddy was so traumatised. As Tronson remarked, Paddy "spent a most unhappy time on Gallipoli, like most of his pals".
And finally, Paddy's escapades were the stuff of light-hearted anecdote, unlike so many war stories. The horror of seeing friends killed haunted many survivors. If forgetting the conflict was impossible, Paddy offered a comforting way to remember.
Sadly, Paddy did not return to New Zealand. While the rabies scare in Britain continued into the early 1920s, he was kept first at the Royal Society for the Prevention of Cruelty to Animals in London, and was then sent to Devon to be taken care of by Jennetta Campbell Rogers.
In late 1922, when the arrangements for his repatriation were at last being made, Mrs Campbell Rogers pointed out he was getting frail and appealed against him being sent on a long sea voyage.
When Paddy eventually died in Devon, in 1929, she sent his collar back to the Wellington Regiment with a touching condolence letter that summed up his contribution. It finished "I should like the Regiment to know that Paddy's last years (he must have been quite 16 when he died a short time ago) were as happy as care and kindness could make them ... He was a well-known character, and his war service made him an heroic figure."